Lehýya Qamîþa

(1918 gotin)
(3567 car hat xwendin)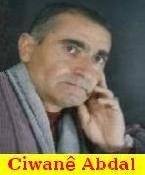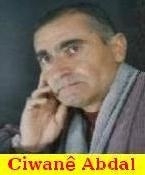 1-

Yên bûyer dîtin dibêjin: Ku çawa Bedro li ser riwê avê palda bû, û newq nedibû binê avê .

Hin giha li ser singa xwe danîbû, û li hawirdor xwe jî raxistibû, tenê av þelûbû ji hêza tevdanê bi çem ve tê pêl bi pêl, destek li bin serî xwe danîbû û yê din li ser singê bi gurzek giha yî girtibû, yên dîtin dibêjin ; qene wê gurza giha nedihiþt bin av bibe , mîna depekê rahiþti bû wî an di kelekê de razayî ye ..? .

Bi çavê xwe ew dêner dîtin, piþtî du rojan û þevekê Bedro di bin avê de mabû, ji êvarî berî ro here ave .. kes pê nehisiya ta roja din ku lehî rawesta, baran û tav ji hev neqetiya, çimkî kesî lê nepirsî wekî hercar, bi saloxa ew di kozika xwe de .. dilîrîne û halana di riwê tav û birûskan de diqêrîne, erê koz-mala wî li rex çeme, ta bû gasîna tevgera wî, tenê wê êvarê baranek buharî meha avdarê dibariya li hermê, deþt û çiya tev de dabû ber xwe .

Ehwa tê dîtinê kiras hilkirî û dewa wî di dev de, xwas û çîq hilkirî ew gasîn bi gav dike, li qiraxa çem ahwa sed gav ji hev tep û dûz kirbû .. û ger yekî biyan bi wirde bihata an hin þivan çend berx û mihê xwe lê biçêranda , dibû lewlewa wî û digot ; - Yabo û yadê .. Û lingê xwe li erdê dida û dibeziya yê, mîna tebakî çawa çêliyê xwe diparêze .

Ehwa tê dîtinê.. li qiraxa çem û çem diçû giha dida hev, rêsî pê çêdikir û datanî qiraxa devê çem ber rokê, ku ziwa û hiþk bike û di roje-pêþan de bifiroþe an dagiþ bike bi tiþtin din ku jiyana xwe pê dijîne, bo terþ û dewarê hirêmê. Tevî zil û qamiþa jî didan hev bo ava kirina banê xaniyan û him jî rewaq û dîwara.

Belê.. cih û warê Bedro bû ji mêj ve, nexasim çem û qiraxa teniþtê, ewî giha dida hev, û jê çêdikirin rêsî û ben, û pir caran xwe pê girêdida mîna darek çinarî rehê xwe berde bi zemînê ve, û li newq û simga xwe girîdide mîna rextê þoreþan, pêþmerga û girîla.

Û ewî hertim taxa xwe paqiþ dikir ji kêsek û keviran.. û ji giha û qirþkan, ku kelpîça jî dibere çêdike, pêþî ehwa axa kendalê çem diherifî û çimkî bi ber avê de diçû û dibû herî.. rabû Bedro ewdra paqiþkir jê.. an coka ava cem veke û herî ya kom bû bide alî, ew herî li ber destê wî bû kêsek û tepik ta bûn rengê kelpîçan .. û li rastê kom bûn, sînor û sîdana xwe pê lêkir.. ta dawî zêde man li cem wî, dan ber firotinê bi rêsî û zil û qamîþan re, ev kar dikir bo jiyana ebûrî derbaske .

Bi xwe Bedro navosereye.. pir bi nav sala de ne çûye, û her çav li bendî riya Çarbiyekê ye, ew yara pêþîne ah û axîna keseran pêre dikiþîne.

Belê .. ev tevde dikir tenê bo serbest û serbixwe be, nedixwest kes di jiyana wî de xeber bide, bi rastî ev war bibû kiþwera wî li deþta Ber-ava, destpêka wî dest pêkir, li wê rastê xêz û sinor danî .. sînor dikirin bi keviran, paþê bi keviran hilda û bi axê top dikir, û çimkî nêzîkî kar-xana bilok û acira bû, perçê nîv saxî dida hev û pê sînorê xwe ava dikir , ewan dikir rova û dibere hinek an çend miþar þûnkayî diçandin, hino-hino û roj bi roj lê miqatebû, gelê wê taxê jî hermet jêre dikir, hin bi kêfa wan bû û hin jî bêkêfa wan bû, li wê herdu qiraxa çem li hêla bakur û baþûr, pêncî gav bi pêncî gavî ketibû bin rola wî .

Her jiyana Bedro bibû perçak ji wê hirêm û kiþwerê, ji ber vê yekê diva sîdanekê ji xwe re çêke, xwe hemyet bike ji tîrêj û tava rokê .. rabû daket newala çemê kêm av, çemê demsale diherike nexasim mehên buharê .. û di quntaxa wê de çend bost û gava kola, û paþê dûzkir, û duvre bi qamîþ û zilê li ber devê çem þînhatibû da ser .. ew sîdan bi ban û dîwar kir .

Bû dema xwe tev bi deyaxî dibûrîne, karê xwe di hevdana giya û qamîþa qirþ û zila de dikir .. an li nav wê þînkahîyê digeriya ku hirêma xwe biparêze ji kesên yên lê matmayî diman , ta nav lê kirin û gotnê; - HevalCine, û zaorka jî bandikrê û digotnê: - Çavreþê þevan .!! .

Carna li qiraxa çem rûdiniþt, li herçar ciha mêzedikir û diket mitala yara xwe, ya bi navê Çarbiyekê ku hîna dûre ji hevdîtinê, ew yara çavbelek û du gezî berdane ser mile-bejn û bala sing li ber, û tê bîra wî çawa carekê jê xwest were cem wî, lê bi ya wî nekir û jê re got;

- Ta tu xwe bi hev de û serbixwe be !.. were destê min bixwaze an were min birevîne, çend awirê wê tujbûn xwe berdida dilê wî.. ho yarê ka tu li kuye .Û carna rûdiniþt û dest datanî ber guhê xwe û deng vedida û dibiland; Yabo û yadê .. min bêriya Çarbiyekê kirye xwedê, pir xêfxweþ bû ku ehwa dengê wî belav dibe di rawestina þevêde, û bi ser piþtê de paldida ta xilmaþî xewê dibû .

Belê .. û dem mîna vî çem dibûre û him jî di cih de dimîne, û sî kin û dirêj dibe, demsal jî dizîvirin buhar û havîn û payîz, payîz û zivistan dijwarin, mîna ava bin kayêne , ezman tirþ û tal dibe û him jî safî dibe, piþtî xwedê qismeta xwe kiribe, çi ewrî be, çi baran û birûsk be.

2 -

Yên bûyer dîtin dibêjin, ku çawa Bedro li ser riwê avê palda bû, û newq nedibû binê avê.

Ji dema piþtî nîro berî dema êvarî, ezman tirþ û tal bû, na welleh birûskan dayê û bi duvre baran bariya , teba û telor xwe dane alîkî, çol û kolan vala bûn ji kesan, tenê dunya ber bi tariyê de dere, wiha jî Bedro ji birûskên pêþîn xwe berda pelpelûkê qiraxa çem û xwe dahêþt kiþwera sîdana qamîþê xwe.. ku xwe biparêze demekê ta dema baranê raweste, deng pêket û dibilîya ;

- yabo û yadê ..

Li perê rê li rexê din, malbata Bedro.. ne xasim dê û bavê wî, dilê wan li cem wî bû, çilo bû û çawa bû.. çendî dayê jêre digot ;

- Law Bedrxan bese.. veregre mal, ma tu çi dike li wan çol û newala..! bavê jêre digot ;

- Law wek tu zane, lê li xwe miqate be ..!

Lê bê sûde ye, ji ber bi ya wan nake ku li mal vexwende .

***

Dem bi çaxa xwe re dibûre wek hercar jêre bûye.. pêlek baran pêlek rawistan, Bedro ne xema wîye di kure hat di kure çû ? .. tenê li kiþwera xwe miqate bû, vir hildida, wir ax dida ber ku sîdana qamîþa xwe biparêze, û zimanê wî dibêje; - Yaboo û yadê..

Li perê din, li Xeta sînorê bakurî sîdana qamîþê, li hêla quntaxa çiyayê Nêrmê, tava baranê xuþîn û xumîne ev roj û danek li duv hev dibare, av bi limiþta xwe dikele, gelê wê taxa jorîn gelek pira û avbir amade kirine - xwedê giravî - bo çandin û zevîyên havînê. Belê.. bi dû rojek baranê miþt avê bûn ew pira û avbir, perpisyarê kuçela çandiniyê, ferman da piþtî guftgoya bi endamê xwere, ku avê bi çem de bedin berî pira-avbir û mal û terþ li ber lehiya ava þelo re herin, ew limiþta tev qirþ û piþkul û termên biçûk, ber bi jêr de Bin-Xetê, ber bi sîdana qamîþê Bedro de.

* * *

Yên bûyer dîtin dibêjin: ku çawa Bedro li ser riwê avê palda bû , û newq nedibû bin avê û çawa xwe girêdabû bi sîwana xwe ve .

Hîna ruhnek li erdê bû, çem Qamîþê bi xumîna avê awaz dibû wek hercar, lê heger biçekî zêde bû, tevlî awazên baranê awazek reþ lê dida, û berî av pehn bibe li binê çem , ku ew av negihêje kiþwera sîdanê, Bedro ji kozika xwe derket perê avê ku hinekî rê jêre bikolane an riya avê biguhere, bi ruhniya mayî li jor ezman, û bi ruhniya birûskan vedidin, Bedro li pêþ dimamîna avbirekê, xwe hilkiribû, nigek li vir û yek li wir, geh ketin geh þimatok, berî deh gavan bi rohilatî sîdanê dixebitî, þikêr çêdikir da bide ber lehiya xayiz.. û stirana dawî hiltê û datê ;

- Yaboo û yadê ê ..

Dem li vir hate guhertin, nema wek hercar dibûre di cih xwe de, tenê dewran û felek li ser serê Bedro digerîya, û wî jî xwe kêm nedikir.. her tiþtê wiha jî nedî bû, lê resenê wê çak bû, bê dexsî û bê revdan berxwedana xwe dikir, û dibere stirana xwere digot;
- Yabo û yadê.. min bêriya Çarbiyekê kirye xwedê.

Geh li vir û geh li wir, dawî rabû xwe girêda bi rehê gihayê xwe, bi wan zil û qamiþ û rêsîyên pêçabûn û danîbû qiraxa devê çem ber rokê, ku ziwa û hiþk bike û di rojepêþan de ku jiyana xwe pê dijîne.

Bi lez û bez.. ji perê çem gurz bi gurez keda rojan dida hev û tanî datanî ber þîpa ava ji duvre dibe lehiya çewt û li zevîya pepokan dicire.

Her dem dibûriya çare nedima, rê teng dibû xebat bê hêz dima, zil û qamîþ û him jî rêsî, Bedro rêzkir û radixist li ber riwê ava þelo, tenê ruhniya malên dûr jê xuyadikir, û deng biliya bû ji bilî xuþîna avê û xumûna baranê û viçiqa av û herîyê li ber lingê wî û helekheleka bihna wî, çend cara bi çavê xwe dizîvirî û lê dinerî, lê mixabin deng dûre û rê winda ye û þîpa lehiya çewt dibeze.

Belê.. keftlfet li dare, bê sûdebûn ew zil û qamîþê kiribûn sedd û avbir li ber lehiya avê, çendî dihejiyan û Bedro bê hedan hinekî din di ber de diçikandin û rêsî top dikirin, kelpîç jî didanhev, ew jî dixistin dîwarê seddê tev perçên bilok û keviran, ew danhev ji sînorê xwe, av nerawestiya her diber re diherikî û zêde dibe, ta çilikê hundirê xwe jî kom kir li ber ku riya avê biguhere bi rêyeke din ve, û xwe û kiþwera sîdana qamîþê biparêze, lê lehiya çewt an ne lehî tenê bû.. tevlî dexsiya Turko bû yên SerXetê li perê din ji çem, ava sedd û avbirê vekiribûn.

3 -

Bedro li berxweda û ta'lî di dev de diqiriçî, li dora xwe nerî, li çar perçê perçekirî, li erdê nerî, li herdo perê qiraxa çemê deþta Nêrmê nerî, an li serayên li vê hêlê avabûne, û li malên li hêla din koçbûne, û dawî li ezmana nerî û berî ken bide ser, diran di dev de diqirçand, miþt kirêz û kîn.. bi ziman ji ber dirana tûk mêt.. û tûkir ;

Tifo çerxa felek .. ha ha hey ..!!.

Yên bûyer dîtin dibêjin û dibilînin: ku çawa Bedro li ser riwê avê palda bû, û newq nedibû binê avê ..


Ciwanê Abdal
http://www.xoybun.com/extra/slide/Unbenannt-2.swf
http://www.pdk-xoybun.com/nuceimages/Newroz_Kurdistan_PDK_Xoybun_x1.jpg
http://www.pdk-xoybun.com/nuceimages/Nexise_Kurdistane_PDK_b.jpg


[ Vegere: Ciwanê ABDAL | Indeksa Beþan ]