XÊZA ÞÎN

(1757 gotin)
(3819 car hat xwendin)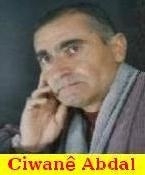 Kesên þanogerê :
1- Kalemêr ; navoser ye
2- Mirin paþa ; sermed
3- Hêvîdar ; sîpe ye

1 - Tîrêja Rok

Kalemêrekî piþtexûz, xêzên sal û dem-sala li ser enîya wî hatine kolandin.. tê dîtinê .. datê ji gelî yê çiya ve, û liser piþtê ye barek êzing ji qurm û þaxên dara rahiþtiye, uftuftê dike di bin barê xwe de, çimkî bihn lê çikiyaye carna di bere dikuxe, û xwêdan ji enya wî qermîçandî diçipe, sor û þîn bûye, dibêje û dibilîne di navbera xwe de, an bi xwe re lavajê dike;

- Xwedawo.. çi rê dirêj bûye îro li min, piþta min di bin vî barî de þkest - ih..ih - xweda ta kengî ezê di bin de bim.. hela ezê vî barî bîskê deynim ji ser piþta xwe û xwe piçikî vehesînim, û bihna xwe berdim li ber vî latî û siya jê kiþiyaye.. ]
( barê xwe ji ser piþta xwe datîne erdê, piþta xwe rast dike û xwêdanê xwe vedimale. )

- Bi rastî barê min ne gîrane pirî wek berê ye, lê belkî ez kal û pîr bûme, qeda bi pîrîyê û kata wî keve, û her wiha kes alî kesî nake, û zivistana me dirêj û dijware, û zarok hûrin- biçûkin û pirin, û mal bê agir nabe, çi ji bo min be, çi ji bo firotin û dakij kirinê be, agir jî fêkiyê zivistanê ye, û roniya tariyê ye.. ( kal bi xwe re distirê );

Agir, agir.. hey agir
Kêfkir ê te ji xwer bir
Germ û roniyê dide
Sê çar kenara li vir

- Lê bi rastî.. ev karê mine, her roj serê sibe pê radibim û xwe dikim bin, piþtî danheva wan ji vir û ji wir, ji birrîna darên ter û hiþk, bi çiya û newala dikevim, bi lat û çara ku barek êzing ji þax û qirþa yan pêlê dara bidim hev û bînim li ser piþta xwe kim, çi bifiroþim û jiyana xwe û zaorkê xwe pê bijînim, û li ber xwe bigerênim, yan jî ji bû kar-malê tivik û tenûrê, ehvî karê zihmet dikim bo kes nebêje ;

- Tirale û bêkêre.

( Hin þax û qîtikan li ber xwe dibîne, radibe dide hev û datîne ser barê xwe, )

- Ger bêjim.. duvdirêje çîroka min, derd û êþan mal û malbata min pirin, tevî hêvî û daxwazên beravêtî, erê xêr û bêra vir pire û ez yan em tevde jê dijîn bi serbestî û serbilindî, xwe û zarokên xwe xwedî dikin bê danek, belê cih serfiraziyê ye çimkî welatê bav û kala ye, jê xweþtir tuneye.. û heger bi hindek zehmet-kêþî jiyan dibûre ew jî nexeme..

( Kalemêro bi xwe re distirê û dibêje; )
Welat, welat.. hey welat
Te çi ji mer kir xelat
Derd û êþ û kêferat
Dimîne dîsa welat

( Li derdora xwe dinêre, ba û toze, tav û tîrêje, û dîsa bi xwe re lavaj dike;)

- Êh, êh.. dawiya peyvê nayê, bextê me reþe, û qirdê me kore, ne bela meye.. ha, ma qene ' xwedawo ' ji destê meye ev, na Welleh.. na. Lê ez çi bêjim bê fêdeye.. dem li hev vedigere, di me de derbas dibe û li me dizîvire bi çewtî..

Dem, dem.. hey dema buhirtî
Dem, dem .. dema ji beravêtî
Dem kengî berxedan roja felat
Dem û dem dema bêkêr nehatî
.
- Erê baro gotin bê fêdeye, bê fêdeye, bar li vire û rê li ber mine, û hêza min li gorî mine, bi rastî baro.. ez bûme mîna gayê di dengê de li dora xwe dizîvire, ta bi kengî ev..? ez bi xwe vê nizanim, ku ev azar û bext-reþiya çewt li dûv min be.

( Kalemêro pir keser û axînên kûr vedide; )

- Ax mirin, mirin dermanê mine, rawestim û vehesînim ji dunyayê, heger mirin bihata wê min xilaskira ji vê azarê, ji ramanên reþ, û bûyerên reþtir ;

- Hey mirin, kengî bimrim û ji xwe re xelas bim, îdî ne gilî û ne gazin diman, de ka zû were bi min ve bû dereng, roj bûye nîvê rojê an ro çûye ava.. de ka were lo..?!

Mirin, mirin.. hey mirin
Çi derdê dilêm pirin
Tu li kuye ka were
Li bendê te ez mirin
Terel-la terela la
Terel-la terela la
Tirm tirm.. lelela

2- Tava Heyvê

Ji niþkave kesek tê, mîna reþikekî - liber kalemêr þipya rawistiya, ji ezman daket an erd qeliþî û jê pengizî, ne çek sipiye ne jî reþe, ya rast li wê nîvêye ; ew kiras û cibe cûne, rih dirêje di rengê kiras û cilê wî de ye, ji rengê riwê wî ye, tenê bejin tenik û zirave, dest dirêje û ew jî bala kalemêr kiþand, tu dibêje qene xwe cendike di tevgera xwe de, niza ne di meþiya ne difiriya .. e..

+ Va me ez .. lo birako, kî bang dike min ez dibêjim; Ê Libê.. li ber destê te me, ev ezim bi qilaft û laþê xwe, bi deng û arþena xwe, kî banke min; ez amade me û diyarim, ne dûrim ji kesî, kî li bendî min be va ez hatim, çimkî :

kî rêwî be ez hevalim
kî þiyare ez li balim
kî razaye ez qeyalim

.. Tu bi xwe birako.. çi ji min dixwazî ?, dawaza xwe carek din bêje, da ezî bi cih bînim, bidime te, libê.. li ber destê te me..!?

- Ê.. Ê bese, te min tirsand bi vê der-ketina xwey ji niþkave, qene tu kiye gelo..ha ?.Ê dengê xwe hilde jiber guhê min girane.

+ Ez mirinim, ruh stînim.. rewana ra-diwestînim ..

- Heh, ê te go çi, mirin bi xwe, he ha hî.. ( kalemêr piçekî dimizce û dikene, paþê dikeve tev ji saw û tirsa ji hundirê xwe û ji derve bi kesê li ber rawestiyaye ) mirin bi xwe, ez bawer nakim bi xwedê, neyse.. tu çi dike li vir çi ye karê te, û tu çi dixwaze..?, de ka bêje..

+ Qene ehwa zû te xwe jibîrkir. Ma ne te þand dûmin .. hevalo,!!? qene min ji tilya xwe ne bihna bû, ez liser deng û banka te hatime, û di xizmeta te de me û tiþtê ji min dixwaze ezê ji te re bi cih bînim.. ya rast hatime bi cih bînim û hew..

- Heh, ê te çi got, Bi xwedê ez nizanim ev bûyer çawa li vir çêdibin, rewrewkin li ber çavê minin an sawêrin li hiþê min dibin..!? ji westandinê ye an ji kêmbûna nêrîna çava ye û ji kerbûna di guhê min de ye..

+ Vaye ez liber çavê te me bi qelafetê xwe, ez hatime daxwazê bi cih bikim û wek tu dizane ez kolakî fermana bicih tînim bê tiþtekî min têde hebe, de ka bêje tu çi dibêje..?

- Wilo.. Te çi got ?, ê çima mere bang li hin tiþtên din dike û tu kes bi me ve nayê..?! ehwa zû û bilez ji me re nakin, mîna bextyarî û serkeftin û çima pir hêvî û omîd hertim beravêtî dibin û tu kes nabêje çiman, ev çi du bendînî çewtin .

+ Her yek û riya wî, her yek bi awakî karê xwe dike û xebata xwe dibe serî, û va ez hatime ser sozê xwe; ruhstênim, de min dereng neke.. jiber karên min pir hene .

- Heh, ê te çi got..?, Ruhstînê çi.. kê qala ruhstînê kiriye, û ji bû çi.. heh ?!

+ Ji bû çi?, ji bû çi te bandikir min û digot;

Mirin, mirin .. hey mirin
Tu li kuye ka were
Li bendê te ez mirin

( Kalemêr matmay ma û hin xêzên tirsê liser riwê wî xuyakirin, û bi dengekî þkestî got;
- Min bang li kesî nekiriye.. birako, bi rastî tu þaþe yabo..

+ Dengê kê bû îca, heger ne dengê te bû, te bi xwe ji min xwest ez bêm û vaye ez hatime karê xwe bikim, û ez xweþ dizanim bi karê xwe.. û bes xwe bide virde û wirde..

- Na.. na ezbenî na, min tiþtek navê ji tu kesî, û herger min bang li te kiriye – wek tu dibêje – ew tu alî min bike û barê min hilde ser piþta min - heger tu karibe ji comerdiya xwe, dîsan barê min li ser piþta min rast bike, yê bi ser salê xwe de dinale..

+ Çilo.. û çawa .. ha..

- De ezbenî li min ke, barê min bavêje ser piþta min, de ka alî min bike bi xêra xwe.. bê çare ye.. ev (dawer)qedera mine ta temen kuta bibe ta dawî. De ka destê te loo.. û dev ji qerwela berdin.

( Mirin bi ber de dikiþe û xwe amadedike alîkarê kalemêr bike, devê xwe diqermiçîne û destê xwe ji hev vedike mîna ; çî min jêye?! )
+ Bese.. eve daxwaza te, wek tu divê, bi rastî hîna temenê te xilas nebûye di erþena cîhanê de, lê.. li ser daxwaza te ez hatim bi te ve, ku qenciyekê bi te bikim, û wek bi Kurdî dibêjin ; ( xwestin dane.) te min xwest û min xwest bidim te tiþtên te xwest.

- Heh, ê te çi got..?. Na bavo na, qenciya te ji min re navê, hetanî xwedê çarekê bike û kulika çarekê veke, û hespekê nêr ji me re biþîne.!

Kalemêr xwe qulûz dike û xwe dide ber barê xwe, û mirin-padîþah barê êzingan li ser piþta wî rast dike.. û pêre dibe teqteqa kenê wî .. ta deng li hev belawela li wan car û çiyan.

+ He ha hî, ev daxwaza te ye.. û hew, de xwedê bi te re be, he hahî ..

3- Çirûskên stêra

Kalemêr hêdî hêdî di bin barê xwe de dimeþe li nav wan car û newala, uftuft pêketiye, û bihn lê çikiyaye, xwêdan ji enya qermîçokî diçipe, xemgîn û hejare.. awaza bêdengiyê li ser serê wî bûye ewrekî cûn.

Wisa ji wêde lawê wî ' Hêvîdar ' tê pêþiya wî ku alîkarîyê pêre bike, bo riya dirêj û dijwar..

- Ha kurê min va tu hatî bi min ve, de heydê em bi hevre herin.. wê þeveq zû ne dereng, wê bi me ve bê.


Ciwanê Abdal
http://www.xoybun.com/extra/slide/Unbenannt-2.swf
http://www.pdk-xoybun.com/nuceimages/Newroz_Kurdistan_PDK_Xoybun_x1.jpg
http://www.pdk-xoybun.com/nuceimages/Nexise_Kurdistane_PDK_b.jpg