Lîkolîn

(2519 gotin)
(4154 car hat xwendin)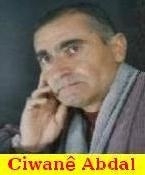 Gihiþtoka

Van

Û

Yên Weke Wê

Di Çarçewa

Ziman û Rêziman De




Ku di vê dema dawî de , hin kesin bi romet ku dil êþiya ziman û rêziman hiltanîn, dixwazin tevlî hezkirina nivîsînê bibin ku karibin çend aloziyên ziman ji hev veçirînin û bendên rêziman þirovebikin. Bi rastî (bê paye) em jî yek ji wanin, yê dixwazin li ber arîþeyên ziman rawistin bi zanist û ramanî bo li rojepêþê rojan kêm nemîne..

Di rêzimana milletan de, her zimank bi xwe bingehek teybetî jê re heye, û her yek bi þêwekê tê nasîn ta ku peyv û gotin ji hev cuda bibe û sûda xwey durist jî bide, weke tê zanîn ku her zimanek ( language .. لغة ) bi awakî xwe bi cih tîne , û bi rêzimanek ( grammer ) taybet bi wê tenê heye ..(û em ne di derbarê vê yekê dene ku çilo û çawane, jiber ne eve mebesta me ji vê gotarê..?!).

Her weha jî wê ev babeta me - ya emê bi hevre þirovey warê ziman bikin û emê bidne xuyakirinê - dikeve vî war-çarçewê, û bi taybetî gotara me wê li ser xirdik û gihiþtina tîpên VAN û yên wekî wê kardikin, û hinin din jî ku dikevin rêza wê, û bê çawa rola xwe dike di der hûnandina peyv û gotinan de, û bi çi rengî dikare bandora xwe bilîze di ziman û rêzman de, çawa cih xwe digire di hevokê de û çawa tê nasîn ?.. ango karê wê çiye di rêzmana Kurda de ?! .

Berî her tiþtî ez dikarim bê payebûn bêjim , ku eve nêrîneke mine di vê goþê de, bi min tenê ye, hêvîdarim sûda xwe bide, ku zimanekî paqij li pêþe rojan li nav Kuradan de derkeve, belkî ez hewqas mafê ziman giþt nedim, û ji heq neyêm der, lê ezê bi tenê li ser VAN babeta xwe bikin û ez pir hêvîdarim ku bigihêm sûdakî bi rama xwe re .

Bi rastî gelê me û pir nivîskar jî gava dixawazin çi kirar ( Noun ..فاعل - اسم فاعل) bi xwedî bikin û bikin xwedî lêker=(piþk) ( Verb .. فعل ), ew VAN bi dawî ve digihînin, gelo ev tiþtê han duriste ?!, di ewa min de.. ev þaþîyeke zimane, û divê em baþ li ber birawistin û hinekî xwe jê biparêzin ji nuha û pêve bo zimanekî paqij tevayî be .

Wek dibêjin me xwedê nedîye.. lê bi aqil me ew naskirî ye, û li vê rastê jî zimanê Kurda hatî ye bûnê û hebûnê ji mêjve bi vê þêwê, û her tiþt wiha ye, tiþtan bi aqil nasdikin li der dora xwe bi ( mînakî ), û em dûr narin ger ji binyad û bingeha suriþtî = (فطرة - fitire) jî hebe di navbêra van tiþtan de, ango wiha hatî ye û gihþtî ye me ji sedê salan ve, mixabin - çimkî zimanê Kurdan hinekî xilûxave ( lêborîn û zinharê ji we - xwendekara ) û ev jî pir sedem jêre hine .
Çimkî bawerim zimanê Kurdî pir zexel di nav de þîn hatî ye, jiber ku ne serbixwe bû ta demeke dirêj, mixabin zimanê din -biyan- akam û bandorin çewt lêkirine û xwe di ber de rakirine, û xwe dîtine jê payetirîn, çi zimanî zor-destî bûn mîna zimanê - Farisî û paþê Turkî - , çi ziman bi rengekî pirozî bûn mîna zimanê - Erebî- ev ji alîkî .

Ji alîkî din jî .. çi nivîskar û zanist û çi þa'irên pak tunebûn, û ne pertûkek pîrozî an dîrokî kevnarî riya zimanê Kurdî û berhema wî biparêze ji vacîbûnê .

Jiber vê yekê xweþik û baþ zimanê Kurdî ne hatî ye moxil kirin, tiþtê hebû ( bi lêvkî ser zimana bû ) bi kar-xebata rojane bû, çi di gotin û peyv û þirovan de bû, çi di xoþxwan û hilbestan de bû, çi di stranê dengbêjan de bû, çi di çirok û meteloka de bû, ew jî di filklor û paþemayên Kurda de bû .

Bi vî hawî zimanê Kurdî hindekî hatîye parastin ji pijvandinê, û wiha hate nasîn ku maye berdewam be, lê mixabin zor-destîyek mezin bi ser welat û milletê Kurdan de hatîye, ( û ev ne ji mijara gotara me ye ku em vê þirovebikin, çimkî em ne bûyerên dîrokî dibêjin ), tenê em didin xuyakirin ku ziman û rêziman çawa bi çewtî hatiye wegiradin û pê hatiye lîstin û çendî tevlî-hev-bûye durist û nedurist, jiber pir dema dirêj lê bûriyaye.

Ango weke zimankî erzane, û him rojane ye, hatiye qedexe-kirinê jiber xwe ve, ew jî ji sedema du hêla ve : yek ji hêla dujminan ve - û ev bê minete - û ya din ji hêla gelê ve, ewe demek dûvdirêj lêbûriyaye bi vî hawî .. heta xwe diye ku li paþiya zimanê gelan bi þûn de maye.

Bi rastî çima pir bi erzanî hatiye xuyakirin, tenê jiber ku ev ziman nehatiye girêdan bi kar-xebata jînê ya firehtir re .. mîna :

A : Çandayî
B : Civakî
C : Abûrî
D : Siyasî - Konevanî
E : Dînî û Pîrozî

Û belkî mercin din jî hene ku hiþtiye zimanê Kurdî li paþ bimîne, û hin tiþtin din wek çanda milletin li derdora wî akam lê kiriye mînaka bi xurtî xuyaye: ango dînê biyanîyan û zor destiye Faþistan .

* * *

Di rêvebiriya rêzimanê ( grammer -قواعد- نحو ) milletên biyanyan de, em dibînin ku di avakirina gotin û peyvê de sê-çar tiþt hene bala merov dikiþînin, û bi tevayî di derbora hûnandina hevokê de, ango wan hevokan bi hev digre û girêdide peyveke durist ku aqil jê fam bike :
A - Ya pêþîn: lêker - piþk ( verbفعل ) e.
B - Ya dwemîn : kirar - ( participleفاعل ) e.
C - Ya sêyemîn : nav ( noun . اسم) e.
D - Ya çaremîn: rewþ . propertyصفة- نعت - û bernav ضمير- û. governed-مضاف اليه . objectمفعول به )e... t.d.
û hin giþtokên din jî hene digihêje hevokê.

Wek em bêjin
: lawik sibehê bi kêf diçe malê
: lawik bi kêf li hespê xwe siwar e

Ehwa mere dibîne ku di vê hevokê de sê-çar xale hene pê hevok tê avakirin û ew jî evin : kirar , lêker , bernav û gihiþtok jî hene .

Lê bi rastî ne eve mebesta me ; ji ber em bi xwe dixwazin li ser benda duwemîn biaxivin, ango ewe aloziya mezin ku divê em li ser KIRAR þirove bikin û çawa VAN pê vedibe.

Çi pir û çi hindik ku çawa lêker xwe dike kirar, an yê kar dike, ango bi kar radibe.. di resenê gotinê bi xwe de.. mînak ; binyad (reg)- lêker + Van = kirar .
An li vê pîvanê, emê zimanê xwe qam bikin, bê çawa lêker xwe dike kirar di ziman û rîzimanên miletên din, ta em jî zimanê xwe li gorî wan qam bikin û bipîvin ;

1- Li cem gelê Ereban, nemûne ; فعل dibe فاعل , rêziman ewe ku elif dikeve piþt tîpa pêþîn û ya duwiyê, ango bi alîkariya tîpa A ku zêde dibe li lêker, wisa dibe kirar, wek van nemûneyan ;
قتل= قاتل - صيد= صائد/صياد - كتب= كاتب - قرأ= قارئ

2- Li cem gelê Engiltaran bi zimanê Engilîzî gava ; lêker dibe kirar.. bi dawiya gotinê digihêje ; ER bi piraniya caran, wek vê nemûnê :
Kill = killer - Hunt = hunter - write = writer

3- Li zimanê Turkan jî gava lêker () dibe kirar bi dawiya gotinê vedibe tîpa ; CÎ û ew jî bi piriya caran weke vê nimûnê :
av = avcî - dinlemek = dinleyicî - tûketmek = tûketicî - gûreþmek = gûreþcî -
Gun . gunner = top : topcû
Help. helper = yardim . yardimcî ..

Lê bi rastî ne ev tenê'ne di zimanê Turkî de, lê jiber min nifþk ji vê beþê anîne ziman bo nemûna xwe pê þirove bikin.

Belê. bi van tiþtên xurû peyvekê lêker (-piþk) dibe kirar..Lê di zimanê Kurdî de pir gihiþtokê kirar hene pêk tînîn, û ji bo mere hina ber çav bike divê em wan bînin ziman, ew jî evin :

1-Van - 2-Dar - 3-Kar - 4-Mend - 5-Yar -
6-Zan - 7-Baz - 8-Bêj - 9-Gaz - 10-Wer, ewer
11-Gan, kan - 12-Ar,er -13-Bend -14- Bar-15- Ok

her wiha ta dawî...

Evana hindekin ji vî nifþên ji 95an ve û bilbî zêdetir gihiþtokên kirarin yên Mîr: Celadet Bedrxan û Rocê Lîsko di rêzimana zimanê Kurdî de (Zaravê Kurmancî) de aniye berçavkirin di bendê (270ê de ta bi 275)a de û di rûpela 423 yan de û pêve , û ji wergera Dîlawerê Zengî ve, bi zimanê Erebî .

Pirsa pir ber bi çav li vir tê xuyanê kirin, ewe çima ewqasin -ev gihiþtok-ê kirarin , û yên miletên din ango zimanê wan ne hewciye ewqas gihiþtokin - wek me li jorî anî berçavkirin- çi zimanê Erebî be, çi zimanê Engilîzî be û çi zimanê Turkî be, her wiha li vir merov matmayî dimîne, û ji xwe dibêje: Çima û çima ..?!

Li vir û ta nuha min tiþtekî taybet ne gotiye, lê ez dibêjim ji ber hebûna piraniya van gihiþtokan ne wiha hatine, ango di zimanekî jîn û jiyanî de hene û pêktê ta nîra îro, jiber yek ji wan gihiþtokan karekî wê taybet heye di peyv û gotinê de ango di hevokî de, an di sûda ziman bi xwe de.

Heger mere piçekî raweste li van gihiþtokan û heval kirarên wan, mere dibîne ku her yek ji wan rolekê digire di cihekî de, ango bi kar tê.. jiber ne wiha hatine ziman, bi þirovake biçok û bi nerînek çavgêrî merê bibîne ku VAN - ya em pê mijolin di vê gotarê de ya nifþek an þêweke taybet heye ..

Bi xwe ev gihiþtok tev yên kar û xebatêne,(lê bi merca ku ne nav be ) ji hêlekê dide xuya û eþkerkirin bi wateya kirar û ji hêlekê din jî bi wateya rengdêr(صفة) û an carna hoker (ظرف) ..xwe dide xuyanê kirin..

Belê.. heger em vegerin binyad û reseniya ziman û cih ev gihiþtok bi cih dibe , nexasim Van. Teybeta Van bikar tê bi yê ku karê bi sewal û dewaran ve mijole, mînak:

1- Van - Ev gihiþtok bi xwe ji yê ku pez û sewalan xwedî dike û bi kar û xebata wan mijûle:

Þivan - Yê ku karê bi þê û mê û pez dike,(sewal) an bi þev kar dike.. paþkarê sewalan dike, an dibe þev+Van,(li vir du tîpên bêdeng gihan hev.. rabû devik ya pêþîn avêt -ya Þev ê) an belkî ji þiv+Van hatiye, þiv ya bi destê þivan ve girtî bo pezê xwe bide serhev, an ji gotineka شاة ya Erebiya nuha dibêjin û ew bi xwe gotinek kevnare di zimanê Ariyan de -nemaze zimanê Pehlewiyan de- wek çawa zimanê Engilîzî dibêjin þîp=sheep , û ew jî bi xwe beþek ji ziman Hindo-Urpiyan e(weke tê zanîn), bi rastî me li vir ev xelek dirêj kir bo vê gotinê jiber di zimanê Engilîzî de ji þivan re dibêjin = shepherd (الراعي).. û wiha ta dawî. Û bi nêrînek biçûk mere dibîne ku ya Erebî bi çêrandinê ve hatiye û ya Kurdî û Engiîzî bi heywan ve hatiye nasîn..
Gavan - Yê ku karê bi dewaran dike, çi ga bin çi çêlek û golik bin, an gamêþ û tiþtin din bin.
Servan, serwan - Yê ku karê bi deve û heþtiran dike.
Bêrîvan - ya ku bi xwedî kirin û dotina sewalan ve girêdaye .
Nêçîrvan - yê ku bi rav û nêçîra lawirên kofî re mijole.. ji çûk, kew, keroþk, aho, t.d.. Erê.. bi tebayê çolê ve.

2- Dar , xuyaye ji þopa vê gihiþtokê ku pir mêþinî ye .. mînak:

Dildar - yê ku bi dil mijole..ango dilgirtiye..
Guhdar - yê ku bi guhê xwe xweþ dibihêze û fêr dibe..
Çavdar - yê ku bi çav tiþtan kare binerxîne.
Agehdar - yê ku bi hestê xwe þiyare ..
Dengdar -

3- Kar. ker, ev giheþtok bi xwe dibe ji yê bi dest û hêza xwe dike.:

Cotkar - yê cotê erd dike..
Destkar- yê bi destê xwe ve kar dike rojane.
Koþkar-solkar: yê sol û þekalan çêdike.
Nivîskar: yê dinvîsîne bi destê xwe bêy raman.
Stemkar-

Zêrker= zîvker - yê bi zêr û zîv dixebite..
Tevnker - yê bi hirî û pembo mijole û livîn û balgehan çêdike, cilik û merþan li tevnê dixîne.
Nolker - yê cilik û merþan çêdike....

4- Mend ev gihþtok bi xwe bi hiþ û eqil û sewda ve girêdaye..:

Eqilmend - bawermend -hunermend -

5 - Yar - peyar-bextyar- hiþyar- cotyar-berisyar
6 - Zan - rêzan - - dîrokzan
7 - Baz - canbaz - rimbaz - hîlebaz - keysbaz
8 - Bêj - kulbêj - dengbêj - çîrokbêj
9 - Gaz - belengaz-
10 - Wer, Ewer - azwer- bîrewer - dîlewer-
11 - Gan,Kan - bazirgan- firoþgan - dukan
12 - Ar, er - nivîsar -
13-Bend - nalbend- hevalbend- dorbend
14 - Bar - xembar-
15 - Ok - tirsok- fediyok-

Belê.. weke me gotî, ne ev tenê'ne ev gihiþtokên me anî ziman di vê gotara biçûk de . lê xuyaye ku min hin ji wan bi sazkirin .. û weke diyare ji vê lîsta li jorî, ku her yek bi þêwê xwe ve dibe kirar û carna dibe rengdêr û wiha tê xebitandin di rola peyv û hevokê de, û ji ber wilo ez dibêjim divê rawistanek giranbuha li ser ziman û rêzimanê me çêbibe, ango ne ji ber xwe ve, ev gihiþtokê ber lêker (piþk) bin bê rexn û þirove-kirinê , da ku bibe rêziman ji zimanê Kurdî re..

Û ji ber vê yekê ez xwe þermezar dikim ku çawa be, VAN bi dawiya lêker vedikim bo wî bikin kirar bo nivîsandin û ezberkirinê , qene jiber ku livka Van bi zimanê devkî nerme an dixawzim kirar tev bi haw û þêwekî tenê bê karanîn bo rêzimanekî taybet û çak li pêþerojê.

Lê.. bi xwe nizanim çawa ev bi min re derket, û nizanim gelo ez gihiþtim encama xwe an na, ji ber þirova vê babetê wiha hindike , lê di baweriya min de ku ev gaveke di hezkirina zimanê zikmakî de, ku bi nêrînek taybet li ziman û rêzimanê wî binêrin...?!!!
Û dawî.. bi vê gotar û simînarê ez alîkariyê dixwazim, jibo þirove-kirinê, ne tenê rexn û gazinê..



Ciwanê Abdal
http://www.xoybun.com/extra/slide/Unbenannt-2.swf
http://www.pdk-xoybun.com/nuceimages/Newroz_Kurdistan_PDK_Xoybun_x1.jpg
http://www.pdk-xoybun.com/nuceimages/Nexise_Kurdistane_PDK_b.jpg


[ Vegere: Ciwanê ABDAL | Indeksa Beþan ]